Technical Specification of PVC Pipe Bending Machine
| | |
| --- | --- |
| Model | YC-BM102 |
| Heating Power | 3KW Adjustable |
| Rated Voltage | AC-220V 50HZ, Customizable |
| Effective Bending Width | 1000mm effective bending length |
| Thickness Of Heating Plate | 1mm - 8mm |
| Bending Angle | 0-179 degrees adjustable |
| Weight | 150 kg |
| Slider Stroke Adjustment | 1200 mm |
| Cutting Times | 7-12 times/min |
| Power Type | Pneumatic |
| Control Form | CNC |
| Provide Processing Customization | Yes |
| Object Material | Acrylic and other plastic sheets |
Features of PVC Pipe Bending Machine
Using numerical control operation, automatic temperature control, temperature controllable.

Water circulation cooling and pneumatic pressurization effectively improve the work efficiency of operators.

This machine can process plastic sheets of various materials, such as acrylic sheets, PVC sheets, PE sheets, PP sheets, ABS sheets, etc.

Using a special quartz tube heating method, the heating speed is fast and the service life is prolonged.

The working voltage can be adjusted at will to ensure the heating requirements of different thickness plates and avoid the phenomenon of pasting.
Application Areas of PVC Pipe Bending Machine
The machine is widely used in advertising decoration industry, acrylic products industry and other fields. It can be used to decorate exhibition halls, the bottom surface of billboards, including square columns, cylindrical doors, doors and windows, display cabinets, supermarket shelves, curtain walls, large light boxes and other acrylic or plastic panels for bending.
How to bend the PVC pipes by PVC pipe bending machine
Step 1: Heating the Pipes by hot pressure air, and forming it by rollers.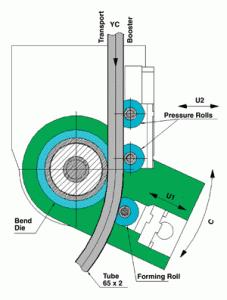 Step 2 : Finish the expanding and final bending.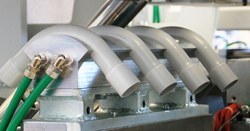 How to Inquiry A Suitable Plastaic Pipe Bending Machine
What's the pipe material to be bend, PVC, PE, PP, ABS, Acrylic?


What's the final shape you want to bend, any reference pictures?


What's the pipe diameter, thickness & length to be bend?