Plastic Waste Crusher Machine Features
Rotor Locking Device: Ensures safety during maintenance when the hopper is in the open position.

Screen: Various screen sizes.

Lockable screen support frame: Robust frame to support the screen maintains the screen shape and avoids damage to the screen.

Optional Screw Discharge Chute: Material can be discharged from the collection chute by screw feed rather than air extraction.

Hydraulic Station: The pressure and timing can be adjusted to suit different materials.

Sound Proof: Cut off the noise effectively when the machine operation.

Bearing Seat: Protective bearing covers to avoid foreign contamination entering the bearing housing.

Hopper: Robust welded hopper with additional support struts to increase strength of hopper and prolong service life.

Versatility: Our plastic crusher machine is suitable for granulating and recycling various types of plastic materials, including various plastic products, large plastic lumps, and rubber lumps.

High efficiency: Plastic scrap crushing machine demonstrates significant crushing effectiveness on materials with high hardness, enabling efficient processing of such materials.

Customizability: Customized plastic waste crusher machine models specifically designed for glass fiber materials can be provided according to customer requirements, greatly enhancing the machine's lifespan.

Reliability: The blade frame of QINGCHENYU plastic crusher machine for sale is made from a single-cut steel plate, resulting in higher strength and stability.
Plastic Scrap Crushing Machine Technical Specification
| | | | | |
| --- | --- | --- | --- | --- |
| Model | Motor power | Rotating blade | Fixed blade | Output |
| PC-400 | 7.5kw | 12pcs | 2pcs | 50-100kg/h |
| PC-500 | 15kw | 15pcs | 2pcs | 80-150kg/h |
| PC-600 | 18.5kw | 18pcs | 2pcs | 200-350kg/h |
| PC-800 | 22kw | 24pcs | 2pcs | 300-500kg/h |
| PC-1000 | 30kw | 30pcs | 4pcs | 600-800kg/h |
*As a professional plastic recycling machine company in China, we also have custom plastic crusher machines for sale. Feel free to contact us for further info!
Customize Plastic Crusher Machine For Sales From QING CHEN YU
A plastic crusher machine is a machine explicitly born for shredding and crushing materials, commonly used in the production line of the plastic recycling industry.
The moving knife, fixed knife and screen inside the crushing chamber cooperate with each other, which can quickly and safely cut various hard plastic products into even-sized flakes.
As a professional plastic crusher manufacturer in China, QINGCHENYU has rich experience in manufacturing plastic scrap crushers for PET recycling lines, plastic film recycling lines, nylon rope & container bag recycling lines.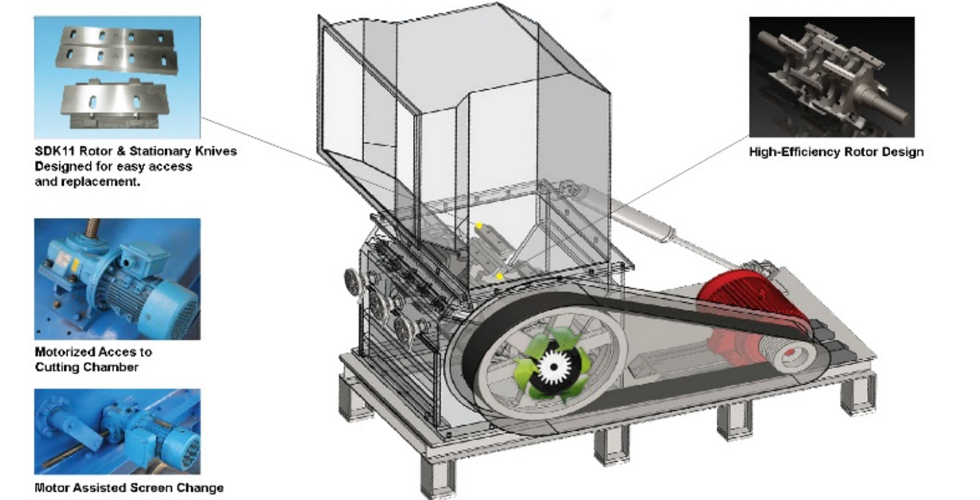 Plastic Scrap Crusher Applications
Plastic crusher machines for sale have a wide range of applications in the plastic recycling industry. For example, crushing pipes, films, plastic bottles and other plastic products, etc. The plastic scrap crushing machine can also be applied to the following products:
· PE/LDPE/HDPE Film
· PP/BOPP/CPP Fabric And Bags
· PA66 Fishing Net
· PET/BOPET Bottles
· Nylon Products
· PVC Products
· EPS/XPS Foam
· HIPS/PC/ABS Hard Plastic
· PVB Products
· PU Products
The PC series plastic crusher machine from QINGCHENYU is an efficient and reliable plastic crushing machine. It features a front blade design and optimized cutting angles, allowing it to efficiently process large plastic lumps or materials with high hardness. This industrial plastic recycling machine can quickly crush various plastic products into small particles, facilitating subsequent recycling, reuse, or disposal. The claw-type plastic crusher possesses excellent crushing capabilities and reliable performance, making it widely used in rubber and plastic moulding factories, plastic recycling and processing industries, and plastic product manufacturing enterprises. Our plastic waste crusher machine plays a significant role in the disposal of plastic waste and the promotion of resource recycling.
Crushing Process Materials of QINGCHENYU Plastic Crusher
The PC series plastic crusher machine is widely used in the crushing and recycling of various plastic materials, including lumps, sprues, pipes, preforms, trays, plastic drums, strapping, shoe lasts, and various plastic products. It particularly excels in crushing large plastic lumps, rubber lumps, and materials with high hardness, delivering significant crushing results.

Furthermore, as a pro plastic crusher manufacturer, QINGCHENYU can also provide customized plastic crusher models for glass fibre materials, specifically suitable for crushing PA66/PA6+20%-50%GF materials. This not only improves the lifespan of the machine but also effectively handles glass fibre-reinforced materials.