Plastic Grinder Pulverizer Machine Features
Focused on generating plastic powder from plastic granules and scraps. The whole system consists of a feeding hopper, grinding chamber, vertex receptacle, shaking filter, regrinding system, dust cleaner.

Both the board and the cutting blade are made of abrasion-resistant steel, which has excellent efficiency after warm treatment.

Straightforward exchangeable of premium knives, and also it can be used consistently after grinding.

As the new disc design is used, our plastic pulveriser machine has the features of high yield and strong resistance. The life of the grinding disc is double that of the ordinary.

QINGCHENYU plastic pulverizer machine has low power intake, high yield, a good-designed framework as well as simple installation.

Professional bearings & high rotation rate. One drive motor ensures the efficient grinding crash, which greatly saves the time and operation of machinery and control engineering.

The installation and maintenance of our pulverizer machine for plastic are easy. Simply open the door to cover clean-up. Milling process of the whole seal, without dust leakage. Full automatic feeding, the materials and sorting. Grinding gap adjustment is simple, use the plug-foot bolts and adjustments can be fine-tuning (10-120 mesh).

The host used the water and wind double system; Rational design of a smaller cross-section of the grinding chamber, grinding is almost flat vertical surface. Material entered the grinding chamber as soon as caught, ground, and then rapidly removed, which eliminates the grinding chamber of the surge in materials, heating materials to avoid decomposition, resulting in improved production.

In virtue of automated feeding, automated splitting up as well as automated discharging, this plastic pulveriser machine is completely air-proof and with no dirt leakage.

The powder excellence can be readjusted because the device has 10-120 meshes to choose from. It just needs to use a filler gauge and change screw to understand precise modification.

The affordable style and smaller milling chamber create higher returns by making the products promptly captured, grated and afterwards got rid of swiftly, staying clear of the temperature level of the product climbing as well as disintegration.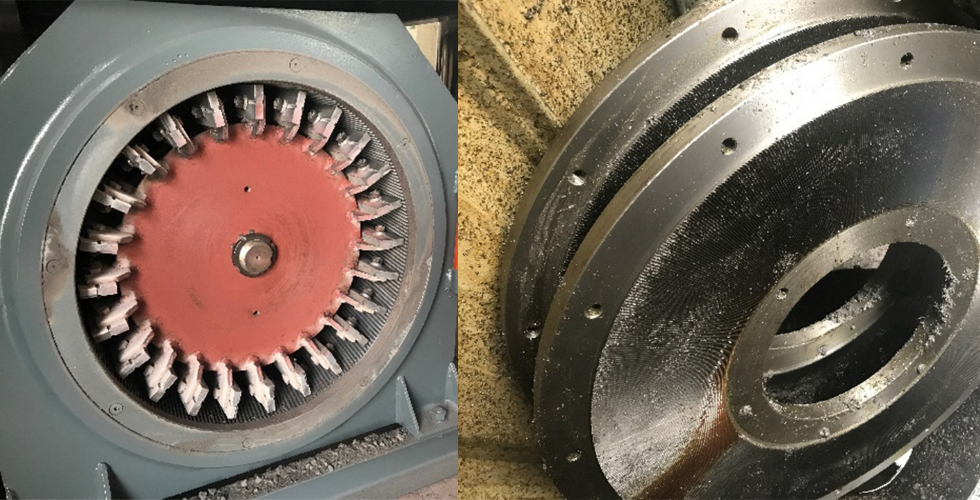 Plastic Grinder Pulverizer Machine Technical Specification
| | | | | |
| --- | --- | --- | --- | --- |
| Model | MF-400 | MF-500 | MF-600 | MF-800 |
| Main Motor Power(kw) | 30 | 37 | 45 | 75 |
| Draft Fan Power(kw) | 3 | 4 | 4 | 5.5 |
| Vibrator Power(kw) | 0.75 | 1.1 | 1.1 | 0.75*2 |
| Feeder Power(kw) | 0.55 | 0.55 | 0.75 | 0.75 |
| Max. Output(kg/h) | 120 | 250 | 350 | 450 |
| Dimensions(mm) | 2200*1500*1600 | 3000*2800*3900 | 3200*3000*4200 | 3500*3200*4500 |
| Weight(kg) | 1100 | 1680 | 2280 | 2880 |
*As a professional plastic recycling machine company in China, we also have custom pulverizers for plastic. Feel free to contact us for further info!
Plastic Pulverizer Machine Compositions
The multifunctional plastic pulveriser machine is composed of four components: air communicating pipe, cyclone separator, electrical control panel as well as the supply of water. Putting raw materials right into the grinding chamber, via the classification and air conditioning of wind and water, individuals can obtain 40-100 meshes rubber powder.
Plastic Pulverizer Machine Applications
MF Series High-speed plastic pulverizer is the particular equipment for reusing disused irrelevant materials in generating and also grinding heat-sensitivity plastic such as PVC, PE, PP, PS, ABS, PET and so forth. QINGCHENYU plastic pulverizer machine is able to squash 10-30 meshes products right into 40-120 meshes. The versions of plastic pulveriser machines ensure the manufacturing of grated products from plastic granules for the production of top-quality end products, widely used for plastic recycling and also grinding.
Plastic Pulverizer Machine Working Principles
Pulverizers process materials in batches or continuously by accepting incoming material, often on a conveyor, rotating it and pressing a crushing into it, then sending it out. They may also cool, heat, or aerate material as it exits. For the convenience of the user, plastic pulverizers can crush materials to varying levels of fineness, from very fine to coarse.
Things To Consider When Buying Plastic Pulveriser Machines
To get the best pulverizer system for your application, you need to partner with a plastic grinder pulverizer machine manufacturer that understands your needs and has both the means and the experience to produce results. When considering possible manufacturers, you need to not only think about your application requirements, but also the nitty-gritty details of your project, such as your budget, your deadline, your delivery preferences, and your post-delivery preferences (installation assistance, parts replacement, etc.) Pro in manufacturing plastic pulverizers, QINGCHENYU is your reliable plastic pulverizer machine supplier. Feel free to contact us at ay time.